The court system is already granting special privileges to the former president that no other defendant gets.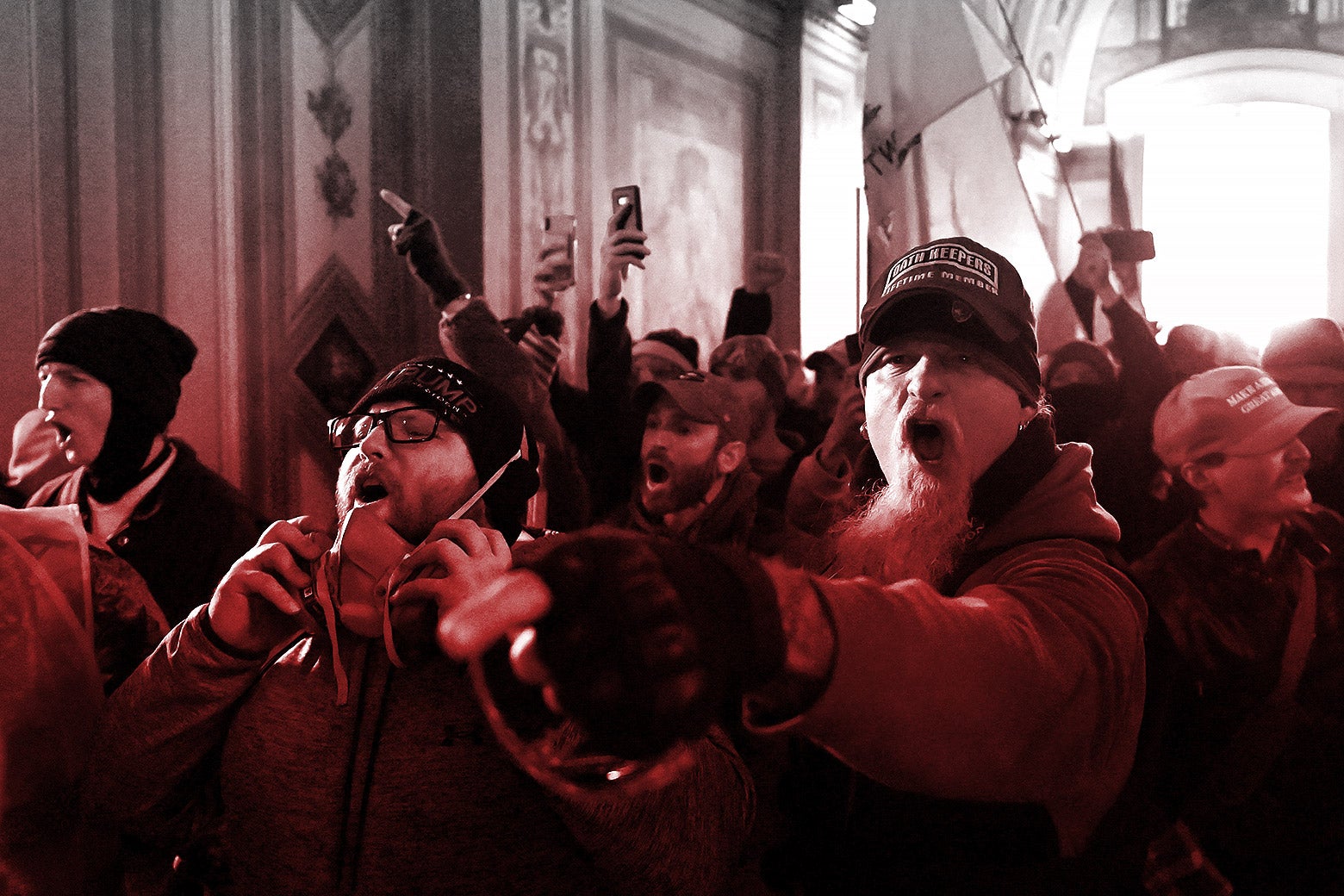 The First Amendment doesn't have special caveats and carve-outs for the rich and famous or for putative presidential contenders. The same rules that govern whose speech can be restrained or punished by the state apply whether you're a criminal defendant, the Republican nominee, neither, or both. You can say what you want and need to say unless your speech falls into limited categories of exceptions—fighting words, incitement, defamation—which are narrow and sometimes confounding in the age of social media.
The age of Trump has ushered in new challenges around what kinds of threats and inducements will serve to rile up random malcontents in a country that has become fertile ground for stochastic terror and nothing-to-lose vigilante self-help. And while we all know that sticks and stones may break our bones, most of us now know that a few well-chosen words can summon those with the sticks and the stones. It is the fear of chilling important political speech that causes us to forever slightly err on the side of letting dangerous speakers speak dangerously.
As former Republican Rep. Liz Cheney put it in her opening statement of the Jan. 6 House Select Committee, it was clear that with his words, Donald Trump had "summoned the mob, assembled the mob, and lit the flame of this attack." Trump was impeached by the House of Representatives for "incitement of insurrection." And while the Jan. 6 committee ultimately found that there was sufficient evidence to charge the former president with "assisting, aiding or comforting" the insurrection, in the end neither special counsel Jack Smith nor Fulton County District Attorney Fani Willis charged him with so doing. Too many charged First Amendment issues, too many nuances and complications. These charging decisions are understandable and also frustrating—the very power Trump has to stir up angry and violent reprisals is the power he seems continually granted to do so again in the future, forever citing the First Amendment and his and his enablers' own plausible deniability.
Trump's borderline-knife-edge, too-close-to-call incendiary statements have been legion to the point we are almost numb to them. Whether it was his "stand back and stand by" message to the Proud Boys (the leaders of whom have since been convicted of sedition for their roles in Jan. 6) around the 2020 election, or a promise of "death and destruction" over an impending Alvin Bragg indictment, each archly worded call for someone to do something drastic almost manages to desensitize you to the next one. So everyone just felt kind of sleepy by the time candidate Trump was posting on Truth Social on Monday, just as the Fulton County grand jury stood ready to criminally indict him, to offer a bit of not-subtle-at-all witness intimidation.
Trump, of course, has been emulated widely. Rep. Matt Gaetz, campaigning last weekend with Trump in Iowa, calmly told the collected attendees, "Only through force do we make any change." That statement happened just days after a Utah man who had threatened to kill President Joe Biden and repeatedly baited federal officers was murdered in a standoff with FBI special agents. (He is now receiving the martyr treatment.) Within hours of the Fulton County grand jury returning an indictment against former President Trump, meanwhile, those grand jurors spent the remainder of the week being doxed, threatened, and subjected to racist taunts, as their names and addresses were shared widely on right-wing websites. On Wednesday evening, a woman in Texas was arrested for making threats against U.S. District Judge Tanya Chutkan, who is overseeing Trump's federal case in D.C. It is, all of it, just words, of course, until someone is dead or arrested for mere "speech." (See: the 6th, January.)
It's hard not to compare some public figures' deep and visceral fear for their own lives when certain words are spoken with the "just speech" defense as those words are directed at others. (See: Hawley, Josh.) Supreme Court Justice Samuel Alito said last year that joining the draft opinion in Dobbs itself made the signatories the "targets of assassination," and Sen. John Cornyn has argued that imposing new ethics rules on Supreme Court justices will make them so vulnerable to violent, crazy attackers that the justices should be allowed to carry guns, regardless of local restrictions, in order to protect themselves. You see, words don't kill people; ethics rules do.
Once upon a time, we could count on U.S. leaders to avoid using inflammatory and incendiary rhetoric, either out of the fear of violent responses, or due to the magic of eventual public shaming. But we are entering a toxic moment in which political vulnerability and the prospect of legal accountability mean that whipping up your most vulnerable and suggestible followers seems more a tactic than a disgrace. It's also very much a last resort. And the "just speech" defense deployed in response to every criticism of every incremental call to violence has the effect of sweeping ever more incendiary language into the "safe" basket.
Chutkan has already warned defendant Trump to avoid making "inflammatory remarks" that "could taint the jury pool or intimidate potential witnesses." He responded by attacking her. In Georgia, the presumption is that a defendant may not be released on bail unless he meets an affirmative presumption that he "poses no risk of intimidating witnesses or otherwise obstructing the administration of justice." A presumption Trump has already failed to meet. (See: Duncan, Jeff.) But the very same judges who would likely restrict the speech rights of a notorious shit-talking defendant like Roger Stone may nevertheless balk at muzzling a former president, especially one who is running to be a future president. The irony is lost on nobody that most of the conspiracies of which Trump now stands accused involve variations on speech acts that included threats and intimidation, lies, and bullying—the same actions he takes up with increasingly reckless zeal on social media against the machinery of the justice system itself. And the same things that make him uniquely dangerous with every winking post about a witness, prosecutor, or judge make him all but impossible to silence: He's a larger-than-life political figure with millions of paranoid followers, of which some subsection will do anything he asks.
Donald Trump knows this. The courts know this. The judges who will likely tolerate ever more transgressive incitement from the former president not only know it but are likely the most obvious, agonizing targets. Judge Aileen Cannon, bless her heart, was resoundingly scolded by a federal appeals court last winter for treating a former president as different from any other criminal defendant. The irony is that the same former president is de facto going to be allowed to go much further than any other criminal defendant in his other three criminal trials precisely because, at least when it comes to the First Amendment, he is like no other criminal defendant in history.
Donation for Author
Buy author a coffee