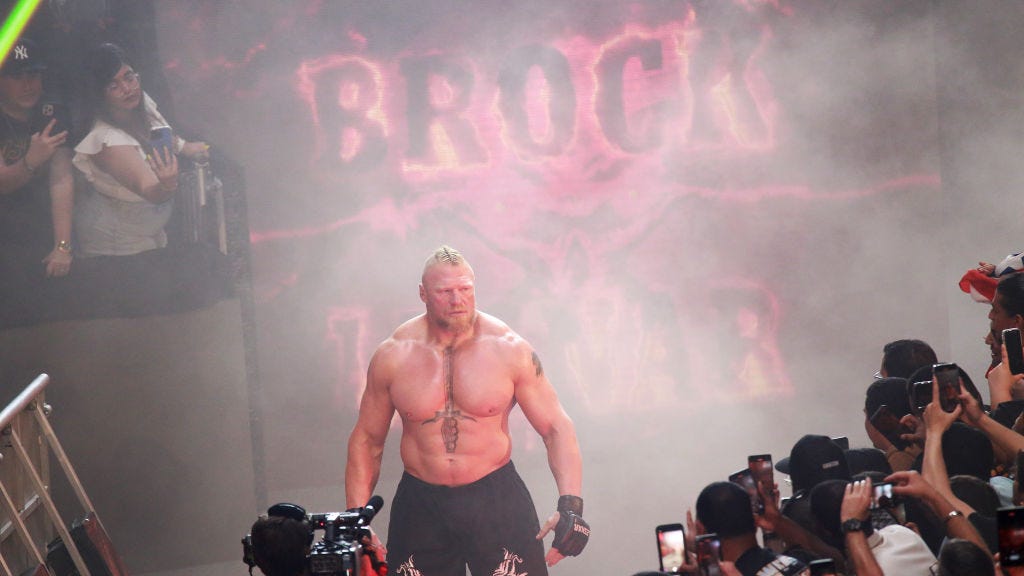 YouTube's Buff Dudes, also known as bodybuilding brother duo Hudson and Brandon White, have tried working out like super-fit movie stars such as The Rock and Michael B. Jordan on their channel in the past. In a new video, however, they take on one of their most challenging physical undertakings yet: recreating the workout of jacked giant Brock Lesnar, the former WWE wrestler who pivoted to MMA and ended up winning a UFC Heavyweight title (when he wasn't playing professional football). And it's fair to say the five-round circuit session puts them through their paces.
The first round of exercises focuses on pressing movements which hit the chest, triceps and delts, encompassing a minute each of Spiderman pushups, plyometric pushups, banded punches, sled pushing, and medicine ball pushups, performed consecutively without any break in between.
"The simplest of tasks become impossible once you start to hit that fatigue," says Brandon as he completes the pushing portion of the workout. "It's all about working through that fatigue, training that body past its breaking point. I feel like I'm already reaching that breaking point."
"Seeing some of the footage of Brock training, it looked extremely difficult," he adds, "but now actually trying out, it is so much more difficult than I originally thought it was going to be."
After just 60 seconds of rest, round two is all about pulling motions, comprising elevated inverted rows, rope pulls, sled pulls, bag twirls, and jumping pullups. Then it's time for the cardio round, where the Buff Dudes hit the assault bike, sit out drills, SkiErg, treadmill, and finish up with the assault bike again.
This content is imported from youTube. You may be able to find the same content in another format, or you may be able to find more information, at their web site.
Round four is a hybrid round, combining push and pull movements and challenging their explosive power and mobility with past parallel pushups, one-armed battle ropes, band pulls, wall ball sprawl (combining wall ball slams and pushups), and med ball transitions.
The workout ends with another cardio round, and the brothers both finish the epic session with a "newfound respect" for Lesnar's physical endurance. "I don't know if we're ready for the NFL, mixed martial arts and the WWE," says Hudson, "but we can hold our heads high and say we at least completed one of his circuits."
Philip Ellis is News Editor at Men's Health, covering fitness, pop culture, sex and relationships, and LGBTQ+ issues. His work has appeared in GQ, Teen Vogue, Man Repeller and MTV, and he is the author of Love & Other Scams.
Donation for Author
Buy author a coffee