By
Justin Curto,
who covers music, TV, and celebrity for Vulture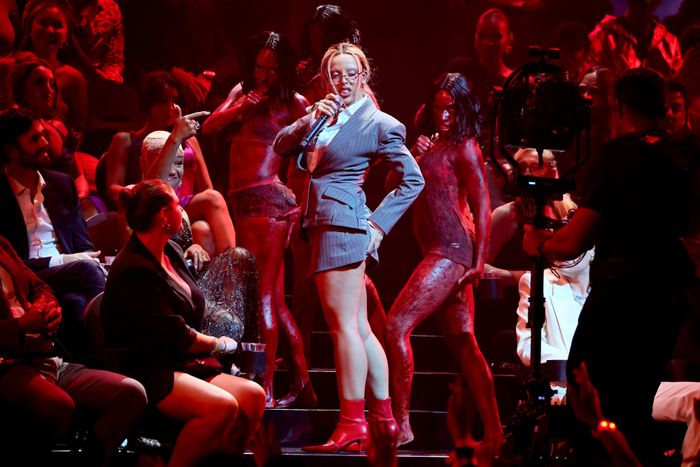 Photo: Theo Wargo/Getty Images for MTV
The MTV Video Music Awards are so synonymous with chaos at this point that it kind of feels like a self-fulfilling prophecy. What other awards show would bring Nicki Minaj back for a second year to do the bare minimum of hosting? But the show also knows where it excels, and that's wide-screen, high-definition spectacle. Yes, tonight had chaos, from singers missing their notes to a hip-hop 50 tribute missing, well, a lot. But it also delivered more than its share of showstopping moments, thanks to Doja Cat, some slick K-pop bands, and newly-minted Video Vanguard winner Shakira.(Additional props to the intrepid cameraperson who turned to Selena Gomez at just the right time.) Here are the highs, lows, and whoas of the 2023 VMAs.
HIGH: The preshow birthday celebrations.
Saweetie got a cake for her song "Birthday" (even though her birthday was in July). It was Kelsea Ballerini's actual birthday, and it's her boyfriend Chase Stokes's birthday in a few days. And in case you somehow haven't heard, this year is hip-hop's 50th birthday. The pink carpet needed some balloons.
WHOA: Lil Wayne causes an uproar.
To borrow from Weezy's protégé, the VMAs went from zero to 100 real quick. A remarkably energetic Lil Wayne kicked off the show, bounding right into a medley of his Carter V track "Uproar" and new track "Kat Food." The crowd went from chanting "Weezy!" to dancing on their feet in no time. An uproar, all right.
WHOA: Don't worry about Olivia Rodrigo — that was supposed to happen.
Sure, yeah, it's the VMAs, and music-video homage is pretty standard fare. But Olivia Rodrigo getting fake–rushed off the stage during her "vampire" performance was still a little confusing — especially since it looked like she may have gotten hit by a pyrotechnic and the camera was a little too shaky. Luckily, she got the crowd back with a sing-along of her new Guts anthem, "get him back!"
LOW: This is our *NSYNC reunion?
Rumors have been swirling about an *NSYNC song soundtracking the new Trolls movie, and earlier today, Billboard confirmed the group would reunite for the first time in a decade for a surprise appearance at the VMAs. To perform the song, right?, you thought. Nope. The group just introduced the Best Pop category, with nary a joke in sight, and they couldn't even speak at the right time. (A Trolls Band Together trailer came during the next commercial break, but due to the SAG-AFTRA and WGA strikes, the group couldn't talk about the film during their appearance.) At least Lance Bass got to give Taylor Swift some friendship bracelets — and Swift seemed equally honored to get an award from her childhood idols.
LOW: Demi and Olivia don't have the range.
Ah, the perils of live vocals. Rodrigo struggled to reach the heights of "vampire" on the VMAs stage, and she couldn't even hide behind her "fame fucker" lyric on prime-time television. Just a few minutes later, Demi Lovato rocked out to a fiery medley of some of her biggest hits, but likewise couldn't quite belt the big notes.
WHOA: Cardi B and Megan Thee Stallion give another awards-show performance for the books.
And yes, there were bongos.
HIGH: Doja Cat has our attention.
Doja Cat has become the queen of double takes on her Scarlet rollout, and she made us do another one when she began her VMAs performance in the audience, in a preppy outfit giving Joan Cusack in School of Rock. But as she snaked her way through the audience, trailed by blood-soaked dancers, Doja put on the most riveting performance of the night. The whole thing climaxed with Doja spitting "Demons" while being circled by dancers — still the center of attention.
HIGH: Shakira, Shakira.
What else is there to say? The multitalented icon did it all during her Video Vanguard medley: danced, sang (in multiple languages), played guitar, crowd surfed, belly-danced, and played to the camera the whole time like the pro she was. The award may be for videos, but Shakira's performance was a ten-minute reminder that she excels even more — somehow! — on stage.
WHOA: Nicki Minaj is everywhere and nowhere.
She's hosting. (Sorry, emceeing.) She's singing. She's rapping. She's … not on stage for over an hour, returning to accept an award and give another to Taylor Swift? When Nicki Minaj is your host, you're on her schedule.
HIGH: Selena Gomez wins Best Reaction.
And Taylor Swift is a runner-up for, well, the whole night.
HIGH: Keyshia Cole is a Global Icon.
Diddy put on a great hit parade for his Global Icon Award medley, mixing new songs with classics like "I'll Be Missing You" and "Mo' Money, Mo' Problems." But Keyshia Cole stole the show when she joined him onstage to belt her part of "Last Night," hitting the notes like a single year hadn't passed.
WHOA: Latin America shows up.
Latin Grammys aside, have you ever heard more Spanish at an awards show? Anitta and Karol G burned up the stage with poised, sexy performances. Anitta did double time with Tomorrow X Together. Peso Pluma didn't need any more than his band to rock out with likely the first regional Mexican performance ever on the VMAs stage. And, fittingly, it was the night that Shakira got her flowers as Video Vanguard Award winner. Later in the night, when she and Karol G accepted the award for Best Collaboration, they gave their speech almost entirely in Spanish — and couldn't stop smiling.
LOW: Tiffany Haddish needs a writer.
Because her Best Afrobeats presentation/history lesson/music promo was so meandering and awkward. (Really, this whole show could've used some union writers. Give them a contract!)
WHOA: Stray Kids make it look easy.
The K-pop eight-piece hit every mark with style during their performance of "S-Class." Yeah, they're in their own class.
LOW: Of all the songs Fall Out Boy could've performed …
They chose their idiotic remake of "We Didn't Start the Fire" (in confusingly large suits, too). That's the opposite of how to light things up as the show pushes its fourth hour.
WHOA: Tomorrow X Together and Anitta heat up the stage.
The TXT boys flashing their bare arms and nailing their choreography would've been hot enough. Then Anitta joined, during the debut of their collab"Back for More," to ratchet up the temperature a few more degrees. If you weren't already sweating from watching those moves, that is.
WHOA: The VMAs rock.
Tired of hearing rock is dead? You should've tuned into the VMAs. Pop acts like Olivia Rodrigo and Demi Lovato took the stage with live bands that genuinely rocked. Shakira picked up a guitar in the middle of her Video Vanguard medley for "Objection (Tango)." And a few rock bands, like Fall Out Boy and Maneskin, even showed up late in the show. Yeah, there's much more to rock than this, but it's always great to see a guitar.
LOW: A messy hip-hop 50 tribute fit for the VMAs.
The VMAs' tribute to the 50th anniversary of hip-hop was destined to live in the shadows of the deftly curated Grammys tribute that kicked off celebrations earlier this year. Slotted at the end of a long night, with a fraction of the guests, the VMAs' felt like an afterthought. Yes, LL Cool J can still put on a show, and yes, Run DMC's finale of "Walk This Way" was a good time. But the whole thing lacked some direction, with a jostling jump ahead a few decades in the middle just because Nicki and Wayne were already in the building. And not even a mention of Yo! MTV Raps? Even for MTV, this was messy.
HIGH: Taylor Swift's trophy count.
Does she have a separate room (in one of her many houses) for all those Moon People?
The Highs, Lows, and Whoas of the 2023 VMAs
Donation for Author
Buy author a coffee