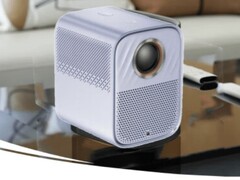 Lenovo has revealed the Xiaoxin 100S projector in China, with a pre-order campaign starting this November. The cheaper 1080p model has up to 270 CVIA lumens brightness and can throw images up to 150-in (~381 cm) wide. Other features of the Android projector include automatic image-perfecting tools and built-in speakers.
The Lenovo Xiaoxin 100S Projector has been unveiled in China. The model has an LED light source, generating up to 270 CVIA lumens or 900 ANSI lumen brightness. While the device has a native 1080p resolution, 4K decoding is supported alongside HDR10. The projector has a 2,000:1 contrast ratio and a 1.25: throw ratio, casting images up to 150-in (~381 cm) wide.
The image produced by the Xiaoxin 100S can be enhanced with a range of tools, including autofocus, screen fit, keystone correction and obstacle avoidance. The projector runs on Android 9.0, with a quad-core A53 CPU and 2+32GB memory. Other features include screencasting from a mobile device, an HDMI 1.4 port to connect gadgets physically, two built-in 5W speakers and Wi-Fi 6 compatibility.
Lenovo suggests that the gadget is portable and compact, measuring 170.2 x 150 x 207.5 mm (~6.7 x 5.9 x 8.2-in) and weighing 2.9 kg (~6.4 lbs). The Lenovo Xiaoxin 100S projector will be able to pre-order in China from November 11, with the price is listed as "¥XX9"; rumors suggest that the product will be priced at ¥999 (~US$137) for this pre-sale period, with the final retail price unknown. Whether or not the model will be released in other markets remains unclear.
Related Articles
Polly Allcock – Tech Writer – 1733 articles published on Notebookcheck since 2021
I've been interested in technology for as long as I can remember. From a young age, I have loved gadgets and understanding how things work. Since graduating, I have worked for several technology companies across FinTech, AdTech and Robotics.
Polly Allcock, 2023-10-22 (Update: 2023-10-22)
Donation for Author
Buy author a coffee