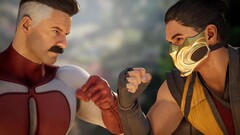 Mortal Kombat 1's first character DLC sees the introduction of Omni-Man from the Invincible comic and animated series. The character will once more be voiced by J.K. Simmons and feature brutal moves and fatalities that echo scenes from the Invincible animated series.
Earlier this year, Warner Bros. revealed the character roster that would feature in Mortal Kombat 1's Kombat Pack DLC, giving gamers their first glimpse at the likes of Homelander, Omin-Man, and Peacemaker. More recently, the company dropped a trailer revealing Omni-Man's gameplay, as well as providing more details about when to expect these new villains to land in the game.
The Omni-Man gameplay trailer reveals much about the character's move sets, giving us a glimpse at the same snide arrogance — delivered by the legendary J.K. Simmons — accompanied by cruel, brutal efficiency and gore that we are familiar with from the Invincible animated series and comics. Of particular note in the trailer are Omni-Man's Fatalities that copy the infamous Invincible train scene and Red Rush's violent end from the show.
Omni-Man is the first of the new characters, and he will hit Mortal Kombat 1 via the game's US$39.99 Kombat Pack DLC in November 2023 alongside Tremor. Players will reportedly have to wait until the end of 2023 or the beginning of 2024 for the likes of Peacemaker and Quan Chi, while Homelander is slated for a Spring 2024 launch window.
Buy Mortal Kombat 1 Premium Edition for Xbox Seris S / X, which includes the Kombat Pack DLC, for US$109.99 on Amazon.
Mortal Kombat 1 is also available for PlayStation 5 via Amazon.
Related Articles
Julian van der Merwe – Magazine & Specialist News Writer – 401 articles published on Notebookcheck since 2022
My interest in tech started in high school, rooting and flashing my Motorola Defy, but I really fell down the rabbit hole when I realised I could overclock the i7 930 in my Gigabyte pre-built PC. This tinkering addiction eventually lead me to study product design in university. I think tech should improve the lives of the people using it, no matter the field. I like to read and write about laptops, smartphones, software and trends in technology.
Julian van der Merwe, 2023-10-15 (Update: 2023-10-15)
Donation for Author
Buy author a coffee