Video games have long provided inspiration for live action scares on the big screen, from the zombie survival horror franchise Resident Evil, to Silent Hill, to Doom. The latest long-running game series to get the movie adaptation treatment is Five Nights at Freddy's, currently out in theaters and streaming on Peacock.
The Hunger Games' Josh Hutcherson stars as down-on-his luck Mike Schmidt, who takes a job as a nighttime security guard at a Chuck E. Cheese-esque fast food chain restaurant called Freddy Fazbear's Pizza. This particular venue has been shut down for years following the suspicious deaths of several children on the premises, and over the course of his first few harrowing night shifts, Mike soon learns that there is a lot more to Freddy's cute, animatronic mascots than first meets the eye.
Mild spoilers ahead.
While the story told in the Five Nights at Freddy's movie is largely self-contained, purportedly solving the central mystery of how and why those murderous mascots keep coming to life, and unmasking the real villain, there are also plenty of places for this narrative to go. At the film's end, Mike has once again gained custody of his younger sister, although he is changed by his experiences, and police officer Vanessa—who has a personal link to the murders—is lying in a coma.
So the question is, will there be a sequel? Six Nights at Freddy's, perhaps? And if so: does the film overtly tease a second movie?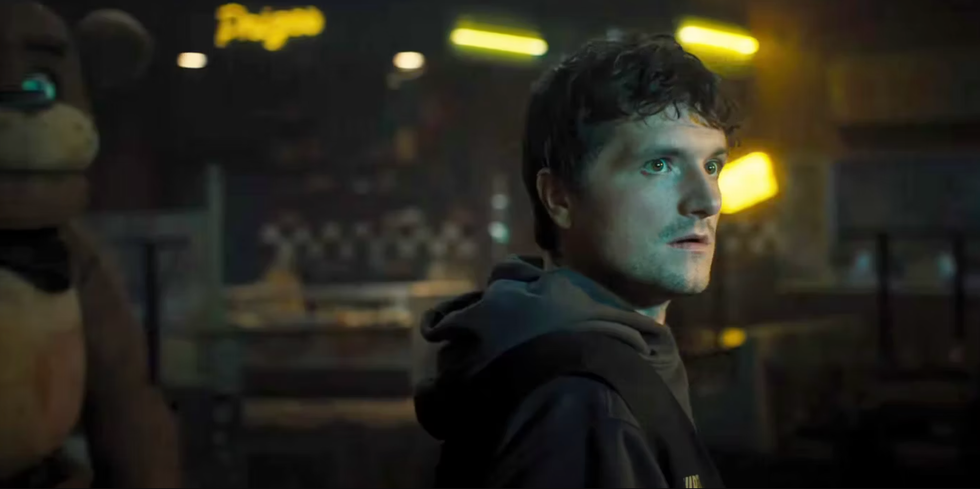 Universal
A post-credit scene hints at future installments.
In the now-expected tradition of franchise films, Five Nights at Freddy's features a mid-credits scene which lets viewers know the bloodshed is far from over. In the short sequence, we follow a taxi driver who appeared in the movie (played by YouTuber and gamer Cory Devante Williams, aka CoryxKenshin) in his car. One last jump scare reveals one of the Freddy's mascots, Balloon Boy, sitting in the back seat.
Balloon Boy is a character from the second Five Nights at Freddy's game. And as the credits continue to roll, viewers hear a disembodied voice spell out the words: "Come find me." So, yeah. That's a creepy as hell way to tease a sequel.
Philip Ellis is News Editor at Men's Health, covering fitness, pop culture, sex and relationships, and LGBTQ+ issues. His work has appeared in GQ, Teen Vogue, Man Repeller and MTV, and he is the author of Love & Other Scams.
Donation for Author
Buy author a coffee